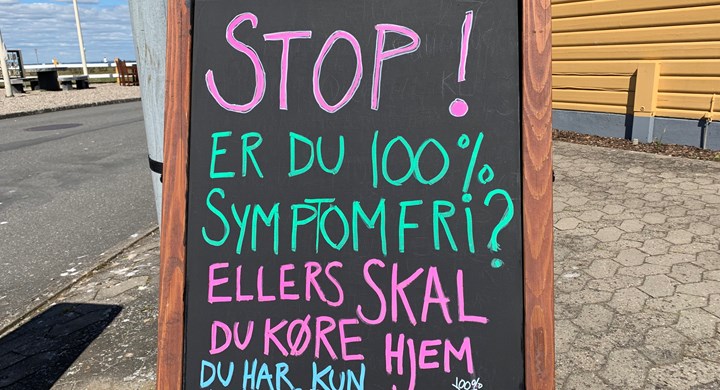 Convid-19
Last updated: 2nd of September 2020
There is a certain set of rules, that must be obeyed, to be a guest here at Kyst Camping Bogense.
The rules are:
If you feel the slightest ill or you've been sent into quarantine, then you HAVE TO STAY AT HOME.
We DO NOT rent our cabins out for your quarantine. NO you can NOT "just stay in your camper or caravan". If you've been sent into quarantine or feel even the slightest ill, then you will have to delay your stay at Kyst Camping Bogense until you are 100% healthy.
If you at any point during your stay with us feel ill, then DO NOT come to the reception or visit your neighbor to ask for a help! Go into your caravan and close the door.
CALL THE DOCTOR (+45) 70 11 07 07 AND our home phone (+45) 40 45 14 43
If we have any doubt that you are staying within ALL of our restrictions, you will be evicted, without getting your money back..
The maximum amount of people allowed in our kitchen, at the same time, is 3. If there are 3 people in there when you want to use the kitchen, you'll have to wait for someone to leave. We recommend making your food AND washing your dishes in your caravan or cabin.
Our service buildings are open, BUT if possible, we recommend that you use your toilet, shower and stove in your caravan or cabin. If you need to use our facilities, please bring your own disinfectant, and wash your hands both before entering and exiting.
We provide disinfectant by all of our buildings (if possible), but PLEASE bring your own, to ensure the welfare of everyone.
We are happy to see all of you, BUT we DO NOT under any circumstances hug or shake hands with any else than the people in our household.
At least the view from our campsite isn't going anywhere
The ocean smells, sounds and looks just like it has for thousands of years!
The sun provides us an incredible view of a thousand colors both at sun-up and at dawn and all the birds sing like everything will be fine. The nature doesn't know the chaos that reigns throughout humankind in these times. All the shops in Bogense are excited to see all of you, but remember to use disinfectant both before entering and exiting and keep your distance to other people.
Both our local fish-restaurant "Fiskehuset" and the local Café "Café onkel" provide a take-away menu, so that you can bring home the best food in town, and enjoying our amazing view of the ocean at the same time! During these times, there can be found multiple places, perfect for a picnic along the harbor.
ALLWAYS use disinfectant when returning to Kyst Camping Bogense.
Remember, the rules that apply here a t Kyst Camping Bogense, also applies throughout the entirety of Denmark! Take care of yourself, keep distance (a bike length between everyone), use disinfect your hands often. And stay away from large gatherings.
We follow the rules that the government has set. Therefor changes may come and if so, this site will be updated.